---
---
---
---
---
---
---
---
---
---
---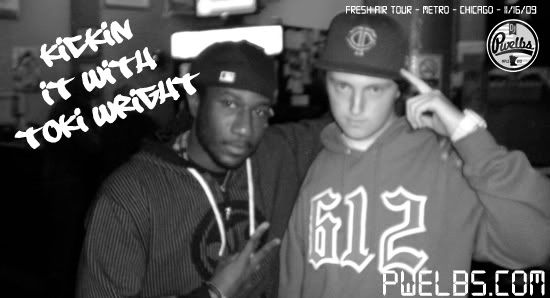 Interview with Rhymesayers artist Toki Wright – recorded live at The Metro in Chicago, Illinois on November 18th, 2009. The Fresh Air Tour featuring Brother Ali, Evidence, Toki Wright and BK-One.
Being a fan of hip-hop for some time now I have seen quite a few hip-hop shows and have met quite a few artists. I can't enough how true and respectful and giving the artists on the Fresh Air Tour are. This was easily one of the best hip-hop shows I have seen in my life. A total party from start to finish. Toki Wright opened up with a fiery set as BK-One held it down for all three MCs for an exhausting couple of hours. Evidence drenched the crowd with solo material and some cuts form his group Dilated Peoples. Then "The Street Preacher" Brother Ali came and rocked the show like he always does. As they took in the crowd noise after performing their tour anthem "The Freshest Kids" I could see it on their faces – that this Chicago stop was one hell of a show. With Chicago being the second to last stop before the gang headed home for two sold out shows at the legendary First Avenue in Minneapolis, I decided to catch up with Mr. Toki Wright.
I walked into the Metro spotted my man Toki wearing his Twins fitted cap. We got the interview rolling and he had some great things to say about the Fresh Air Tour, the Twin Cities music scene and what he is working in the coming months.
Pwelbs: This is Bad Service – DJ Pwelbs – sitting with Rhymesayer's very own Toki Wright. This is the Fresh Air Tour Chicago stop. How is the tour been so far? Touring with Ali, Evidence – it's gotta be crazy. You are almost done.
Toki Wright: Yeah we are almost outta here. Big ups to Minneapolis of course first and foremost. Fresh Air Tour we out here at the Metro in Chicago. It's been crazy touring with BK-One, Brother Ali and Evidence; it's been great shows every night. I really feel like doing this "Freshest Kids" thing – it's been a good jump for me in my career. It is just a big jump for me in my development as an artist. It's just great. I'm happy.
P: Absolutely! So I've been following you guys on Twitter – I hate to bring up Twitter.
T: Nah man. [Laughter]
P: I know it has taken over. I was telling my buddies it's definitely the most connected I have ever felt to the artists that I like. Have you felt more connected to your fans?
T: Yeah definitely – people actually have a direct link to you. Which sometimes can be a little overwhelming but sometimes its good because you want to hear what people have to say. Those critical opinions I think a lot of times artists, especially in hip-hop, get a close circle of people around them that are "yes men" or tell them they are better then they may really be for their own self security. For me as an artist that wants to be honest with my listeners, I like to hear what the real response is.
P: Definitely, I feel you on that one. You're from the Twin Cities. You have got to be proud of the whole scene right now. You have got Rhymesayers going big for 2010, Doomtree, Big Quarters – they are doing Last Of The Record Buyers, Dessa is teaching at McNally – I know you're a part of that (hip-hop) degree over there. How do you feel about all of this?
T: I love Minneapolis. I always think Minneapolis has been a forward thinking city. You think back to Prince. You think back to Jimmy Jam and Terry Lewis. We have always been people that have been innovators. It's not only dope to see Rhymesayers setting things off but Just Live is another group from Minneapolis that I have seen doing some stuff with Wyclef. I've seen them on Americans Next Band. You know what I mean, it's just all these crazy things and people are really starting to spread out and branch out which is only going to be better for the Twin Cities scene, Minneapolis, for all of us. People like St. Paul Slim, Muja Messiah, Maria Isa who is out in New York like every month doing shows and getting involved in the Afro-Puerto Rican community. It's dope to see people that you have come up with expand and go to all these places that you may never have expected and they never really expected and proving all the naysayers wrong. It's good. It's great!
P: I know you're an activist on the side and do a lot of side projects. I think what's crazy about the Minneapolis scene is that all the artists give back. Even down to the bottom, not that I'm saying Big Quarters is at the bottom but they are just so involved in community. They help out producers and upcoming rappers. It's just awesome.
Also your new album did very well. A Different Mirror, I think you even had to re-ship?  How does it have feel to have support from all the fans? All your blog support and how much it has taken over. How does it feel?
T: It's a beautiful thing. I tell people I'm a kid from North Minneapolis and people told me that I would never be anybody and I'm not really someone to rub things in people's face but it is good to know that if I continue at whatever pace that I am at and really believe in what I do, I think I can make it. I think that is inspirational to other kids from my block and kids from North Minneapolis. We get looked at like we are the scum of Minnesota and they are beautiful people and make beautiful things. Seeing everybody from top to bottom succeed is great for me. Seeing Big Quarters succeed and give back is great for me. Seeing Maria Isa give back is great for me. Because that is a new flavor that isn't always, you know out there in the hip-hop scene. People aren't always reinvesting in where they came from. You have to understand that a lot of that comes from hatred from the person that's above you. I think that a lot of us have come up in different pockets at the same time and have had to work together so we have camaraderie with each other.
P: Absolutely. I know the last thing I saw from you was a guest feature on a Trey Lane record; he is a rapper out South Dakota. I know you just dropped your album back in the summer but what else are you working on? This day in age something is always on the way.
T: Yup – A Different Mirror is out there and I've been pushing that. I've got the "Devils Advocate" video that is on MTV.  I've got a new video for "The Feeling" with Brother Ai that is coming out in a few weeks. Maybe a month or something. I have a bunch of features that I have been working on. We are trying to work on doing another tour and we have just new music. I have been writing new music everyday and connecting with some people that I would love to work with and people I look up to. I'm working on a joint with Louieville Sluggah from Boot Camp Clik right now. You know just doing things that I always wanted to do when I was younger. The expansion is happening and I'm creating new work everyday. I definitely have more work for people that will be free or for a small fee by the end of the year. Then I'll be ready to hit people with another record next year.
P: Sounds good, we always love to hear about some new Rhymesayers and Toki Wright coming our way. Any other artists you are paying attention to? I know we discussed a few of them earlier. Anyone else either artists or producers? Twin Cities specifically?
T: Nationally, I would definitely say Jay Electronica. He is definitely someone that makes me thing when I am listening to them. Locally, St. Paul Slim definitely. There are a lot of younger artists that are coming up everyday through these community groups that are making amazing new music all the time. I give props to everybody but I definitely give props to Benzilla, PC, King Karnov and some of the other people making beats outta the Twin Cities. Big Quarters of course.
P: Franz Diego!
T: Of course Franz Diego, Illumnious 3 and The Usual Suspects. A cat named I.B.E. has a video coming out that I am in – coming out soon. People are really stepping their game up and are really starting to become more professional with the work. Of course I am a big supporter of the Doomtree folks. Me and P.O.S.  came up around the same time and seeing what he is doing and seeing how he has expanded. I told him the other day. Man, you inspire me to do better. Just seeing where we were and where we are now is inspirational.
P: Yeah not to mention he is just one of the nicest guys out there. I interviewed him last year. He is one of a kind.
T: Yeah – he is great! That's the thing. You know a lot of great people come from Minnesota. The thing about Minnesota is that it is so cold that you really want to have to live there to be there. [Laughter] It keeps out a lot of the bad attitude.
P: I hear ya on that one. That's all from me. Enjoy the show and I'll be out there front and center. Enjoy your time and rest in Minneapolis as this tour winds down.
T: You know it. Once again – North Minneapolis, St. Paul and Twin Cities. Respect. Rhymesayers Entertainment and Soul Tools. Everybody out there making music and everyone out there supporting their community. Big ups to the whole poetry scene. Big ups to everybody out there making moves for their hometown. Love.
P: No doubt. This is a Bad Service with DJ Pwelbs live from the Metro in Chicago. The Fresh Air Tour with Brother Ali, Evidence, Toki Wright and the one and only BK-One. We are outta here! Thanks!
T: Peace. One Love.
I can't thank Toki Wright enough for taking the time for this interview. Shout out to Brother Ali, Evidence and my man BK-One for chatting it up. Such good people.
You can catch the audio for the interview this Sunday, November 22nd on my radio show Bad Service on Radio DePaul. Tune in at Http://radio.depaul.edu from 6-9PM for hip-hop all night. More information at http://www.pwelbs.com.
I'll end it Fresh Air Tour Style. 1,2,3 Peace! 1,2,3 Peace! Rhymesayers #1.
Toki Wright's A Different Mirror is in stores now.
---
---
---
---
---
---
---
---
---
---
---
---
---